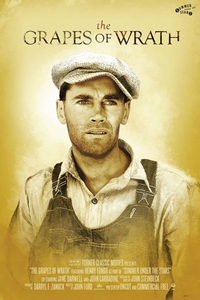 Opening Date:
March 15, 1940
Cast:
Henry Fonda, Jane Darwell, John Carradine, Charley Grapewin, Dorris Bowdon, Russell Simpson, O.Z. Whitehead, John Qualen, Eddie Quillan, Zeffie Tilbury
Synopsis:
Following a prison term he served for manslaughter, Tom Joad returns to find his family homestead overwhelmed by weather and the greed of the banking industry. With little work potential on the horizon of the Oklahoma dust bowls, the entire family packs up and heads for the promised land ? California. But the arduous trip and harsh living conditions they encounter offer little hope, and family unity proves as daunting a challenge as any other they face.
The Grapes of Wrath (1940) (NR)
Click bold theatre name for showtimes and tickets.
Showtimes available three days prior to opening.