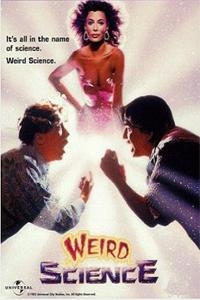 Opening Date:
August 2, 1985
Cast:
Anthony Michael Hall, Kelly LeBrock, Ilan Mitchell-Smith, Bill Paxton, Robert Downey Jr.
Genre:
Comedy, SciFi/Fantasy
Synopsis:
A pair of nerdy high-schoolers, outcasts to everyone, take to their computer and magically bring to life a stunningly beautiful woman whose devotion to them--and not to mention her special powers -- make them the most desired kids on the block.
Weird Science (PG13)
Click bold theatre name for showtimes and tickets.
Showtimes available three days prior to opening.