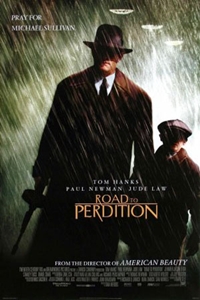 Opening Date:
July 12, 2002
Cast:
Tom Hanks, Paul Newman, Jennifer Jason Leigh, Jude Law, Stanley Tucci
MPAA Rating:
R for violence and language
Synopsis:
A hit man for an Irish gang in the Depression-era Midwest, hit man Michael Sullivan is known to friends and enemies alike as the Angel of Death. Uncompromising in his work, Sullivan is just as devoted to his private life as an upstanding husband and father of two young boys. But when those worlds collide, taking the lives of his wife and younger son, Sullivan and his surviving son, Michael Jr. leave their sedate home life behind and embark on a startling journey of revenge and self-discovery.
Road to Perdition (R)
Click bold theatre name for showtimes and tickets.
Showtimes available three days prior to opening.