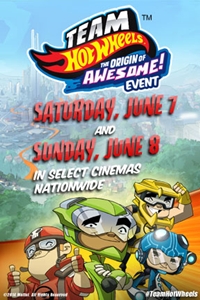 Opening Date:
June 7, 2014
Cast:
Director:
Synopsis:
Fathom Events and Mattel are amped to put the pedal to the metal and bring Team Hot Wheels® new band of characters to select cinemas nationwide on Saturday, June 7 and Sunday, June 8. Join Gage, Rhett, Wyatt and Brandon, as they take on a mysterious black car who is transforming their sleepy town of Hilly Woodlands into a chaotic mess. PLUS get a first-hand look under the hood at how Team Hot Wheels® was brought to life.
Team Hot Wheels: The Origin of Awesome Event (NR)
Click bold theatre name for showtimes and tickets.
Showtimes available three days prior to opening.