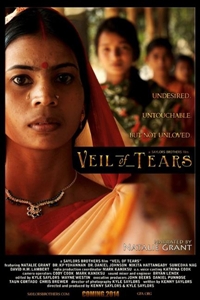 Cast:
Natalie Grant, K.P. Yohannan, Daniel Johnson, Nikita Hattangady, Rachael Mann, David H.M. Lambert, Denny Brownlee, Bhakti H., Sumedha Nag, Rabin
Director:
Kenny Saylors, Kyle Saylors
MPAA Rating:
PG13 for disturbing thematic material and images
Synopsis:
This documentary film tells the untold story of millions of women in India who are culturally oppressed because they are women. However, despite the centuries of oppression, there are those who are reaching out and trying to change the culture towards women, from the inside out. These are the faces of true survivors who have withstood a lifetime of adversity. Take a heartfelt journey through the eyes of these women, and others, who unveil their personal stories. Get a glimpse of the true resilience of the human spirit and the hope that has changed the lives of millions. This film was shot on-location across the stunning nation of India in some of the most remote tribal villages in the world today. This is a journey where few outsiders have gone before.
Veil of Tears (PG13)
Click bold theatre name for showtimes and tickets.
Showtimes available three days prior to opening.