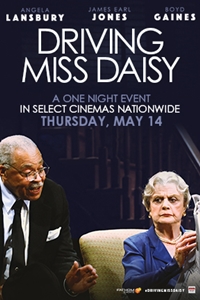 Opening Date:
May 14, 2015
Cast:
Angela Lansbury, James Earl Jones, Boyd Gaines
Director:
David Esbjornson
Synopsis:
Fathom Events and Broadway Near You are thrilled to bring the beloved classic, Driving Miss Daisy, to cinemas on May 14. Shot during the play's Australian tour, Driving Miss Daisy, offers a once in a lifetime opportunity to see two iconic Broadway and Hollywood veterans in one of the most enduring and popular stage plays of our time. The production also stars four time Tony Award winner Boyd Gaines.
Driving Miss Daisy: On Stage (NR)
Click bold theatre name for showtimes and tickets.
Showtimes available three days prior to opening.