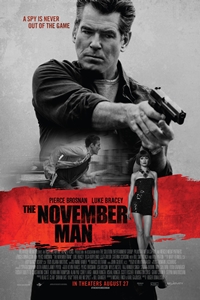 Opening Date:
August 27, 2014
Cast:
Pierce Brosnan, Olga Kurylenko, Luke Bracey, Caterina Scorsone, Will Patton, Eliza Taylor, Bill Smitrovich, Roman Mitichyan, Lazar Ristovski, Milutin Milosevic
Director:
Roger Donaldson
Genre:
Action/Adventure, Suspense/Thriller
MPAA Rating:
R for strong violence including a sexual assault, language, sexuality/nudity and brief drug use
Synopsis:
Code named 'The November Man', Peter Devereaux is a lethal and highly trained ex-CIA agent, who has been enjoying a quiet life in Switzerland. When Devereaux is lured out of retirement for one last mission, he must protect valuable witness, Alice Fournier. He soon uncovers this assignment marks him a target of his former friend and CIA protégé David Mason. With growing suspicions of a mole in the agency, there is no one Devereaux can trust, no rules and no holds barred.
The November Man (R)
Click bold theatre name for showtimes and tickets.
Showtimes available three days prior to opening.