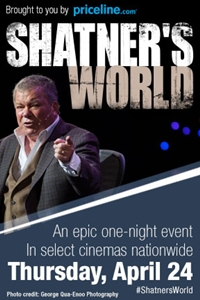 Opening Date:
April 24, 2014
Director:
Synopsis:
Fathom Events and Priceline.com are thrilled to bring one of the most recognizable actors of our time, William Shatner, to select cinemas nationwide for a hilarious one-night event on Thursday, April 24 at 7:30pm (local time).

Through anecdotes, songs, jokes and even some poignant moments, you will experience William Shatner's phenomenal path from classically trained Shakespearean actor to cultural icon, brilliantly creating the larger-than-life and most important character he has ever played, William Shatner. The two-hour show will take audiences on a voyage through Shatner's life and career. He is known as much for his unique persona as for his expansive body of work on television and film.
Shatner's World (NR)
Click bold theatre name for showtimes and tickets.
Showtimes available three days prior to opening.