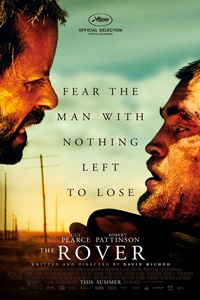 Opening Date:
June 13, 2014
Cast:
Guy Pearce, Robert Pattinson, Scoot McNairy, Nash Edgerton, David Field, Anthony Hayes, Susan Prior, Gillian Jones
MPAA Rating:
R for language and some bloody violence
Synopsis:
With society in decline, the rule of law has disintegrated and life is cheap. Hardened loner Eric travels the desolate towns and roads of the scorched and dangerous Australian outback. When a brutal gang of thieves steals his car and only remaining possession, they leave behind the wounded Rey in their wake. Forcing Rey to help track the gang, Eric gives chase. Determined beyond reason, unrelenting in the pursuit of his prey, Eric will go to any lengths to take back the one thing that matters to him.
The Rover (R)
Click bold theatre name for showtimes and tickets.
Showtimes available three days prior to opening.