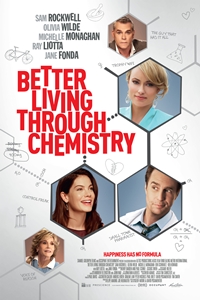 Opening Date:
March 14, 2014
Cast:
Olivia Wilde, Michelle Monaghan, Sam Rockwell, Jane Fonda, Ben Schwartz, Julisita Salcedo, Peter Jacobson, Ken Howard, Norbert Leo Butz
Director:
Geoff Moore, David Posamentier
Synopsis:
The film follows a small town pharmacist's uneventful life as it turns into a walk on the wild side when he embarks on a drug-and-alcohol fueled affair with a seductive customer. This hilariously funny dark comedy features a big-time cast who certainly delivers in laughs and amusement.
Better Living Through Chemistry (NR)
Click bold theatre name for showtimes and tickets.
Showtimes available three days prior to opening.