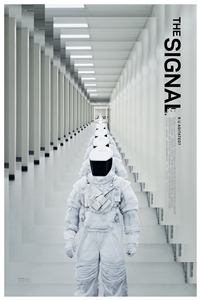 Opening Date:
June 13, 2014
Cast:
Laurence Fishburne, Brenton Thwaites, Sarah Clarke, Lin Shaye, Olivia Cooke
Genre:
SciFi/Fantasy, Suspense/Thriller
MPAA Rating:
PG13 for some thematic elements, violence and language
Synopsis:
Three college students on a road trip across the Southwest experience a detour: the tracking of a computer genius who has already hacked into MIT and exposed security faults. The trio find themselves drawn to an eerily isolated area. Suddenly everything goes dark. When one of the students, Nic, regains consciousness, he is in a waking nightmare...
The Signal (PG13)
Click bold theatre name for showtimes and tickets.
Showtimes available three days prior to opening.