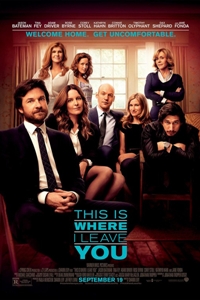 Opening Date:
September 19, 2014
Cast:
Tina Fey, Jason Bateman, Adam Driver, Rose Byrne, Timothy Olyphant, Kathryn Hahn, Connie Britton, Abigail Specer, Corey Stoll, Dax Shepard
MPAA Rating:
R for language, sexual content and some drug use
Synopsis:
The Altman family doesn't get along, and they haven't all been together in years. But when the patriarch dies, the whole clan is expected to fulfill his final wish and sit Shiva for him for an entire week. Now newly divorced, newly jobless Judd Altman has to travel home to face his dysfunctional family, including his hot-to-trot psychiatrist mom, his sarcastic older brother, his unhappy sister and his too-perfect younger brother in an effort to see if family bonds will prevent them from killing one another.
This Is Where I Leave You (R)
Click bold theatre name for showtimes and tickets.
Showtimes available three days prior to opening.