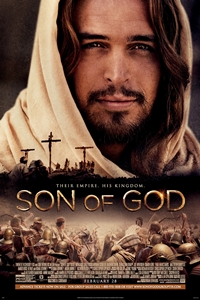 Opening Date:
February 28, 2014
Cast:
Diogo Morgado, Roma Downey, Amber Rose Revah, Andrew Brooke, Louise Delamere, Darwin Shaw, Simon Kunz, Matthew Gravelle, Adrian Schiller, Sebastian Knapp
Director:
Christopher Spencer
MPAA Rating:
PG13 for intense and bloody depiction of The Crucifixion, and for some sequences of violence.
Synopsis:
This major motion picture event is an experience created to be shared among families and communities across the U.S. It brings the story of Jesus' life to audiences through compelling cinematic storytelling that is both powerful and inspirational. Told with the scope and scale of an action epic, the film features powerful performances, exotic locales, dazzling visual effects and a rich orchestral score. The film spans from Jesus' humble birth through his teachings, crucifixion and ultimate resurrection
Son of God (PG13)
Click bold theatre name for showtimes and tickets.
Showtimes available three days prior to opening.