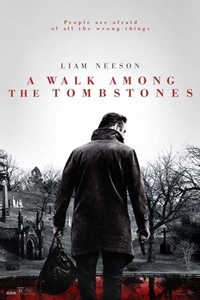 Opening Date:
September 19, 2014
Cast:
Liam Neeson, Ruth Wilson, Dan Stevens, Sebastian Roché, Mark Consuelos, Boyd Holbrook, Whitney Able, David Harbour, Toshiko Onizawa, Maurice Compte
Genre:
Suspense/Thriller, Action/Adventure, Drama
MPAA Rating:
R for strong violence, disturbing images, language and brief nudity
Synopsis:
Formerly a detective with the NYPD, now a recovering alcoholic haunted by regrets, Matt Scudder has a lot to make up for. When a series of kidnappings targeting the city's worst drug criminals escalates to grisly murder, the circuit's ruthless leader convinces Scudder to find the culprits and bring them to bloody justice. Working as an unlicensed private detective, Matt sees what the police don't see and treads where they most fear to. Operating just outside the law to track down the monsters responsible, Scudder stops just short of becoming one himself.
A Walk Among the Tombstones (R)
Click bold theatre name for showtimes and tickets.
Showtimes available three days prior to opening.