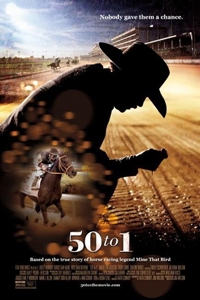 Opening Date:
May 23, 2014
Cast:
Skeet Ulrich, Christian Kane, William Devane, Madelyn Deutch, David Atkinson, Todd Lowe, Eloy Casados, Tish Rayburn-Miller, Hugo Perez, Benjamin Glenday
MPAA Rating:
PG13 for some suggestive material and a bar brawl
Synopsis:
A misfit group of New Mexico cowboys find themselves on the journey of a lifetime when their crooked-footed racehorse qualifies for the Kentucky Derby. Based on the inspiring true story of Mine That Bird, the cowboys face a series of mishaps on their way to Churchill Downs, becoming the ultimate underdogs in a final showdown with the world's racing elite.
50 to 1 (PG13)
Click bold theatre name for showtimes and tickets.
Showtimes available three days prior to opening.