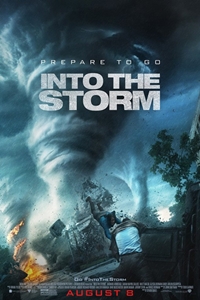 Opening Date:
August 8, 2014
Cast:
Richard Armitage, Sarah Wayne Callies, Jeremy Sumpter, Nathan Kress, Matt Walsh, Scott Lawrence, Kyle Davis
MPAA Rating:
PG13 for sequences of intense destruction and peril, and language including some sexual references
Synopsis:
In the span of a single day, the town of Silverton is ravaged by an unprecedented onslaught of tornadoes. The entire town is at the mercy of the erratic and deadly cyclones, even as storm trackers predict the worst is yet to come. Most people seek shelter, while others run towards the vortex, testing how far a storm chaser will go for that once-in-a-lifetime shot.
Into the Storm (PG13)
Click bold theatre name for showtimes and tickets.
Showtimes available three days prior to opening.