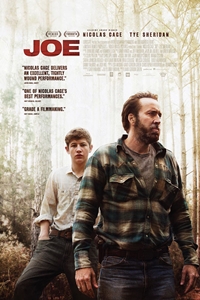 Opening Date:
April 11, 2014
Cast:
Nicolas Cage, Tye Sheridan, Sue Rock, Heather Kafka, Ronnie Gene Blevins, Adriene Mishler, Robert Johnson, Brenda Isaacs Booth, Anna Niemtschk, Erin Elizabeth Reed
Director:
David Gordon Green
MPAA Rating:
R for violence, disturbing material, language and some strong sexual content
Synopsis:
The story begins as Joe hires teenaged Gary Jones and his destitute father onto his "tree-poisoning" crew for a lumber company. Joe might be notoriously reckless with his pick-up, his dog and especially with women, but he sees something in Gary that gets to him: a determination, a raw decency and a sense of resilience he can barely believe in anymore. Gary has truly had nothing in life - he's never spent a day at school - yet something drives him to take care of his family, to keep his sister safe when his father turns monstrous, to hang onto hope of a better future. Joe and Gary forge an unlikely bond. When Gary finds himself facing a threat greater than he knows how to handle, he turns to Joe - and sets off a chain of events that play out with the brutal inevitability of tragedy and the beauty of a last stab at salvation.
Joe (R)
Click bold theatre name for showtimes and tickets.
Showtimes available three days prior to opening.