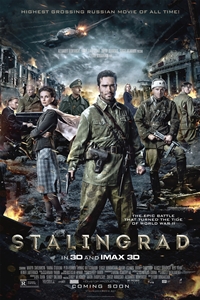 Opening Date:
February 28, 2014
Cast:
Thomas Kretschmann, Pyotr Fyodorov, Sergey Bondarchuk, Maria Smolnikova, Yana Studilina
Director:
Fyodor Bondarchuk
MPAA Rating:
R for sequences of war violence
Synopsis:
This is an epic look at the battle that turned the tide of World War II. A band of determined Russian soldiers fight to hold a strategic building in their devastated city against a ruthless German army, and in the process become deeply connected to two Russian women who have been living there. The scale of the battle contrasts dramatically with the human drama of the Russian soldiers, the few remaining civilians and their invaders into Stalingrad.
Stalingrad (R)
Click bold theatre name for showtimes and tickets.
Showtimes available three days prior to opening.