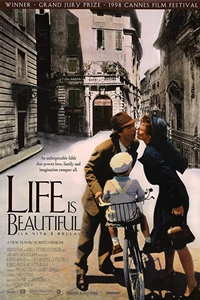 Opening Date:
October 23, 1998
Cast:
Roberto Benigni, Nicoletta Braschi, Giorgio Cantarini
Director:
Roberto Benigni
MPAA Rating:
PG13 for holocaust-related thematic elements
Synopsis:
The film is a Chaplinesque fable about the power of imagination set against the stark reality of World War II Europe. The film combines satire, physical comedy, social commentary and a touch of the surreal into a uniquely moving story of love. At the center of the fable is Guido, an enchanting individual with childlike innocence and grand dreams of owning his own book shop. It's 1939, and he has come to the Tuscan town of Arrezzo with his poet friend Ferruccio. With unabashed humor and joy, the two seek fortune and romance, ignoring the growing anti-Semitism and Fascist government that surrounds them. Guido falls in love with Dora, a beautiful young school teacher, and a fairy tale romance ensues.
Life Is Beautiful (La vita e bella) (PG13)
Click bold theatre name for showtimes and tickets.
Showtimes available three days prior to opening.