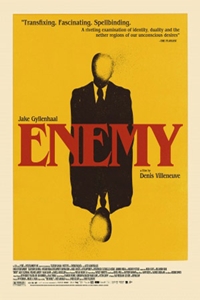 Opening Date:
March 21, 2014
Cast:
Jake Gyllenhaal, Mélanie Laurent, Sarah Gadon, Isabella Rossellini, Stephen R. Hart, Jane Moffat, Joshua Peace, Tim Post, Laurie Murdoch, Loretta Yu
Director:
Denis Villeneuve
MPAA Rating:
R for some strong sexual content, graphic nudity and language
Synopsis:
Adam Bell is a glum, disheveled history professor, who seems disinterested even in his beautiful girlfriend Mary. Watching a movie on the recommendation of a colleague, Adam spots his double, a bit-part actor named Anthony Clair, and decides to track him down. The identical men meet and their lives become bizarrely and irrevocably intertwined. Gyllenhaal is transfixing as both Adam and Anthony, provoking empathy as well as disapproval while embodying two distinct personas.
Enemy (R)
Click bold theatre name for showtimes and tickets.
Showtimes available three days prior to opening.