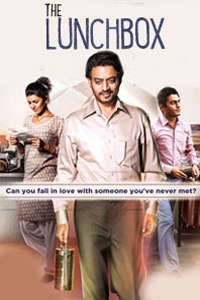 Opening Date:
February 28, 2014
Cast:
Irrfan Khan, Nimrat Kaur, Denzil Smith, Bharati Achrekar, Nawazuddin Siddiqui, Nakul Vaid, Yashvi Puneet Nagar, Lillete Dubey
MPAA Rating:
PG for thematic material and smoking
Synopsis:
Saajan, a Mumbai office worker nearing retirement, is delivered the wrong lunch by a dabbawala. Young housewife Ila had intended it for her emotionally indifferent husband. To Saajan's surprise, the food is a vast improvement on his usual meal.

When he finds a note from Ila enclosed with another meal, he decides to write back.

The Lunchbox (Dabba) (PG)
Click bold theatre name for showtimes and tickets.
Showtimes available three days prior to opening.