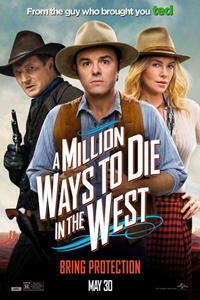 Opening Date:
May 30, 2014
Cast:
Amanda Seyfried, Liam Neeson, Charlize Theron, Seth MacFarlane, Giovanni Ribisi, Sarah Silverman, Rex Linn, Ralph Garman
Director:
Seth MacFarlane
MPAA Rating:
R for strong crude and sexual content, language throughout, some violence and drug material
Synopsis:
After cowardly Albert backs out of a gunfight because he's never fired his gun, his fickle girlfriend leaves him for another man -- the proprietor of the town's foremost moustache emporium. When he accidentally saves the life of a mysterious and beautiful woman, she helps him find his courage and learn to stand up for himself. But when her husband, a notorious outlaw, arrives seeking revenge the sheep farmer must triumph over all of the hilariously awful dangers of the old west in order to save her.
A Million Ways to Die in the West (R)
Click bold theatre name for showtimes and tickets.
Showtimes available three days prior to opening.