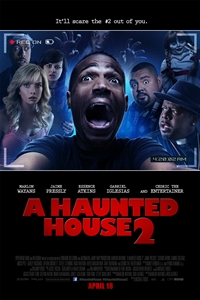 Opening Date:
April 18, 2014
Cast:
Marlon Wayans, Jaime Pressly, Gabriel Iglesias, Ashley Rickards, Steele Stebbins, Essence Atkins, Affion Crocket, Dave Sheridan, Hayes MacArthur, Missi Pyle
MPAA Rating:
R for crude and sexual content, nudity, pervasive language, drug use and some violent images
Synopsis:
Crossing new lines and breaking old barriers, this is the sequel to the hilarious box-office hit starring Marlon Wayans as Malcolm who, after exorcising the demons of his ex, is starting fresh with his new girlfriend and her two children. After moving into their dream home, Malcolm is once again plagued by bizarre paranormal events. With spine-tingling tension and hilarious punch-lines this film is inspired by the latest supernatural horror movie franchises and shows that this time...it's not just the house that's haunted!
A Haunted House 2 (R)
Click bold theatre name for showtimes and tickets.
Showtimes available three days prior to opening.