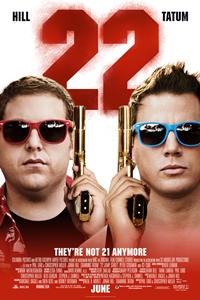 Opening Date:
June 13, 2014
Cast:
Channing Tatum, Jonah Hill, Ice Cube, Dave Franco, Nick Offerman, Peter Stormare, Amber Stevens, Rob Riggle, Richard Grieco, Libby Blanton
Director:
Phil Lord, Chris Miller
Genre:
Action/Adventure, Comedy
MPAA Rating:
R for language throughout, sexual content, drug material, brief nudity and some violence
Synopsis:
After making their way through high school (twice), big changes are in store for officers Schmidt and Jenko when they go deep undercover at a local college. But when Jenko meets a kindred spirit on the football team, and Schmidt infiltrates the bohemian art major scene, they begin to question their partnership. Now they don't have to just crack the case - they have to figure out if they can have a mature relationship. If these two overgrown adolescents can grow from freshmen into real men, college might be the best thing that ever happened to them.
22 Jump Street (R)
Click bold theatre name for showtimes and tickets.
Showtimes available three days prior to opening.