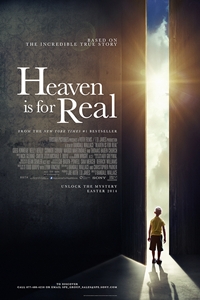 Opening Date:
April 16, 2014
Cast:
Greg Kinnear, Kelly Reilly, Connor Corum
Director:
Randall Wallace
MPAA Rating:
PG for thematic material including some medical situations
Synopsis:
Todd and Sonja Burpo are a real-life couple whose son Colton claims to have visited Heaven during a near death experience. Colton recounts the details of his amazing journey with childlike innocence and speaks matter-of-factly about things that happened before his birth: things he couldn't possibly know. Todd and his family are then challenged to examine the meaning from this remarkable event.
Heaven Is for Real (PG)
Click bold theatre name for showtimes and tickets.
Showtimes available three days prior to opening.