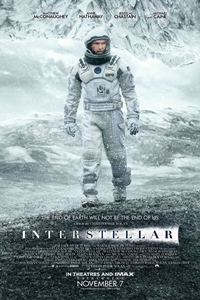 Opening Date:
November 7, 2014
Cast:
Matthew McConaughey, Anne Hathaway, Jessica Chastain, Bill Irwin, John Lithgow
Director:
Christopher Nolan
Synopsis:
A group of explorers make use of a newly-discovered wormhole to surpass the limitations on human space travel and conquer the vast distances involved in an interstellar voyage.
Interstellar: The IMAX Experience (NR)
Click bold theatre name for showtimes and tickets.
Showtimes available three days prior to opening.