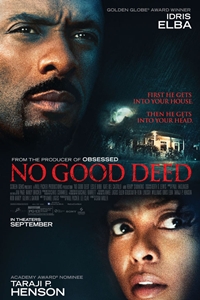 Opening Date:
September 12, 2014
Cast:
Idris Elba, Taraji P. Henson, Leslie Bibb, Kate del Castillo, Henry Simmons, Alan D. Purwin, Wilbur Fitzgerald, Mark Rhino Smith, Kenny Alfonso
MPAA Rating:
PG13 for sequences of violence, menace, terror, and for language
Synopsis:
Terri, a devoted wife and mother of two, lives an ideal life that takes a dramatic turn when her home and children are threatened by Colin, a charming stranger who smooth-talks his way into her house, claiming car trouble. The unexpected invitation leaves her and her family terrorized and fighting for survival.
No Good Deed (PG13)
Click bold theatre name for showtimes and tickets.
Showtimes available three days prior to opening.