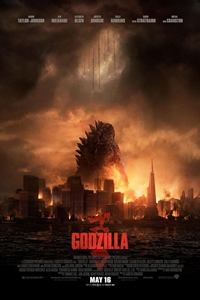 Opening Date:
May 16, 2014
Cast:
Aaron Taylor-Johnson, Ken Watanabe, Elizabeth Olsen, Juliette Binoche, Sally Hawkins, David Strathairn, Bryan Cranston
Genre:
SciFi/Fantasy, Action/Adventure
MPAA Rating:
PG13 for intense sequences of destruction, mayhem and creature violence
Synopsis:
An epic rebirth to Toho's iconic Godzilla, this spectacular adventure pits the world's most famous monster against malevolent creatures who, bolstered by humanity's scientific arrogance, threaten our very existence.
Godzilla (PG13)
Click bold theatre name for showtimes and tickets.
Showtimes available three days prior to opening.