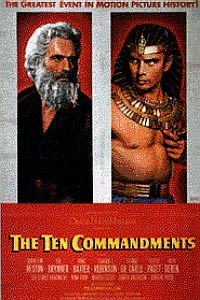 Opening Date:
October 5, 1956
Cast:
Charlton Heston, Yul Brynner, Anne Baxter, Edward G. Robinson, Yvonne De Carlo, Debra Paget, John Derek, Cedric Hardwicke, Nina Foch, Martha Scott
Director:
Cecil B. DeMille
Genre:
Action/Adventure, Drama
Synopsis:
A rich Egyptian prince Moses, learns that he is a Hebrew. He then turns his back on his royal heritage to lead his people out of bondage.
The Ten Commandments (1956) (G)
Click bold theatre name for showtimes and tickets.
Showtimes available three days prior to opening.