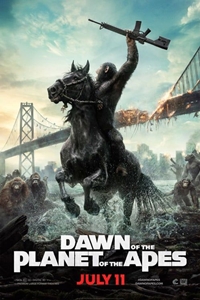 Opening Date:
July 11, 2014
Cast:
Andy Serkis, Jason Clarke, Gary Oldman, Keri Russell, Toby Kebbell, Kodi Smith-Mcphee, Enrique Muriciano, Kirk Acevedo
MPAA Rating:
PG13 for intense sequences of sci-fi vioelnce and action, and brief strong language
Synopsis:
A growing nation of genetically evolved apes led by Caesar is threatened by a band of human survivors of the devastating virus unleashed a decade earlier. They reach a fragile peace, but it proves short-lived, as both sides are brought to the brink of a war that will determine who will emerge as Earth's dominant species.
Dawn of the Planet of the Apes (PG13)
Click bold theatre name for showtimes and tickets.
Showtimes available three days prior to opening.