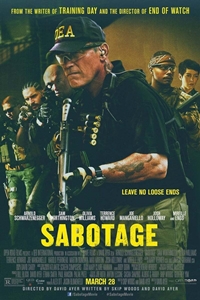 Opening Date:
March 28, 2014
Cast:
Arnold Schwarzenegger, Sam Worthington, Olivia Williams, Terrence Howard, Joe Mangeniello, Harold Perrineau, Josh Holloway, Merielle Enos
Genre:
Action/Adventure, Suspense/Thriller
MPAA Rating:
R for strong bloody violence, pervasive language, some sexuality/nudity and drug use
Synopsis:
Arnold Schwarzenegger leads an elite DEA task force that takes on the world's deadliest drug cartels. The elite team executes what appears to be a tactical raid on a cartel safe house, which in fact, turns out to be an elaborate theft operation, pre-planned by the members of the DEA squad itself. After hiding $10 million in stolen cash, the rouge agents believe their secret is safe - that is until someone begins methodically assassinating members of the team, one-by-one. As the body count rises, everyone is suspect, including members of the team itself.
Sabotage (R)
Click bold theatre name for showtimes and tickets.
Showtimes available three days prior to opening.