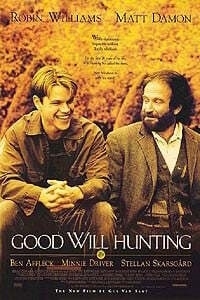 Opening Date:
December 5, 1997
Cast:
Matt Damon, Robin Williams, Ben Affleck, Minnie Driver, Stellan Skarsgard
MPAA Rating:
R for strong language, including some sex-related dialogue
Synopsis:
Matt Damon, who created the title character and wrote the script with costar Ben Affleck, gives a star-making performance as a working class genius with a chip on his shoulder.
Good Will Hunting (R)
Click bold theatre name for showtimes and tickets.
Showtimes available three days prior to opening.