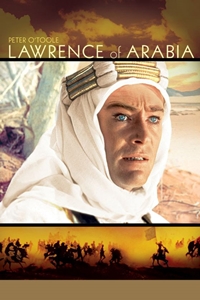 Opening Date:
December 16, 1962
Cast:
Peter O' Toole, Alec Guinness, Anthony Quinn, Jack Hawkins, Omar Sharif, Jose Ferrer, Anthony Quayle, Claude Rains, Arthur Kennedy, Donald Wolfit
Genre:
Action/Adventure, Drama, War
Synopsis:
Stunning in scope, visually magnificent, and filled with compelling performances, David Lean's epic masterpiece is one of the great achievements in cinematic history. Peter O'Toole stars as T.E. Lawrence, a British officer who is sent to Arabia in 1917, and becomes a heroic leader in the Arabic rebellion against the Turks. As he grows more integrated into Arab society, his loyalties become conflicted. Omar Sharif, Alec Guinness and Anthony Quinn co-star in this sweeping historical action-adventure classic.
Lawrence of Arabia (PG)
Click bold theatre name for showtimes and tickets.
Showtimes available three days prior to opening.