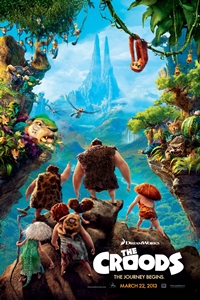 Opening Date:
March 22, 2013
Cast:
Nicolas Cage, Ryan Reynolds, Emma Stone, Catherine Keener, Clark Duke, Cloris Leachman
Director:
Chris Sanders, Kirk De Micco
Genre:
Animation, Action/Adventure, Comedy
MPAA Rating:
PG for some scary action
Synopsis:
This prehistoric comedy adventure follows the world's first family as they embark on the journey of a lifetime when the cave that has always shielded them from danger is destroyed. Traveling across a spectacular landscape, the family discovers an incredible new world filled with fantastic creatures -- and their outlook is changed forever.
The Croods (PG)
Click bold theatre name for showtimes and tickets.
Showtimes available three days prior to opening.