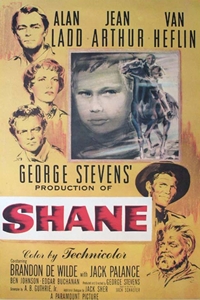 Opening Date:
April 23, 1953
Cast:
Alan Ladd, Jean Arthur, Van Heflin, Brandon De Wilde, Jack Palance, Ben Johnson, Edgar Buchanan, Elisha Cook Jr., Douglas Spencer, John Dierkes
Synopsis:
The story of a Wyoming range war is elevated to near-mythical status in George Stevens' Western classic Shane. Alan Ladd plays a mysterious drifter who rides into a tiny homesteading community and accepts the hospitality of a farming family. Patriarch Joe Starrett is impressed by the way Shane handles himself when facing down the minions of land baron Emile Meyer, though he has trouble placing his complete trust in the stranger, as his Marion is attracted to Shane in spite of herself, and his son Joey flat-out idolizes Shane. When Meyer is unable to drive off the homesteaders by sheer brute strength, he engages the services of an evil hired gun.
Shane (1953) (NR)
Click bold theatre name for showtimes and tickets.
Showtimes available three days prior to opening.