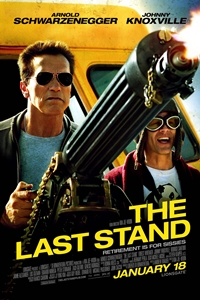 Opening Date:
January 18, 2013
Cast:
Arnold Schwarzenegger, Genesis Rodriguez, Jaimie Alexander, Rodrigo Santoro, Peter Stormare, Forest Whitaker, Luis Guzmán, Johnny Knoxville, Zach Gilford, Harry Dean Stanton
Genre:
Action/Adventure, Suspense/Thriller
MPAA Rating:
R for strong bloody violence throughout, and language
Synopsis:
After leaving his LAPD narcotics post following a bungled operation that left him wracked with remorse and regret, Sheriff Ray Owens moved out of Los Angeles and settled into a life fighting what little crime takes place in sleepy border town Sommerton Junction. But that peaceful existence is shattered when Gabriel Cortez, the most notorious, wanted drug kingpin in the western hemisphere, makes a deadly yet spectacular escape from an FBI prisoner convoy. With the help of a fierce band of lawless mercenaries, Cortez begins racing towards the US-Mexico border with a hostage in tow... straight through Summerton Junction. At first reluctant to become involved, and then counted out because of the perceived ineptitude of his small town force, Owens ultimately rallies his team and takes the matter into his own hands, setting the stage for a classic showdown.
The Last Stand (R)
Click bold theatre name for showtimes and tickets.
Showtimes available three days prior to opening.