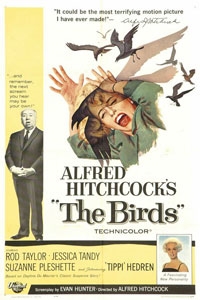 Opening Date:
March 28, 1963
Cast:
Tippi Hedron, Rod Taylor, Suzanne Heshette, Jessica Tandy, Veronica Cartwright
Director:
Alfred Hitchcock
Synopsis:
Alfred Hitchcock's famous classic where a flock of birds terrorize the small town Bodega Bay.
The Birds (PG13)
Click bold theatre name for showtimes and tickets.
Showtimes available three days prior to opening.