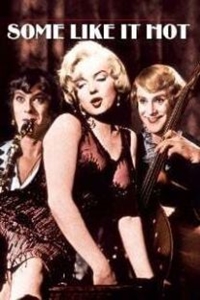 Opening Date:
March 29, 1959
Cast:
Marilyn Monroe, Tony Curtis, Jack Lemmon, George Raft, Pat O'Brien, Joe E. Brown, Nehemiah Persoff, Joan Shawlee, Billy Gray, George E. Stone
Genre:
Comedy, Action/Adventure, Suspense/Thriller
Synopsis:
Two Struggling musicians witness the St. Valentine's Day Massacre and are now on the run from the Mob. Jerry and Joe cross-dress into an all female band. In addition to hiding, each has his own problems; One falls for another band member but can't tell her his gender, and the other has a rich suitor who will not take "No," for an answer.
Some Like it Hot (NR)
Click bold theatre name for showtimes and tickets.
Showtimes available three days prior to opening.