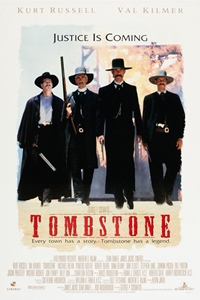 Release Date:
December 25, 1993
Cast:
Kurt Russell, Val Kilmer, Dana Delany
Director:
George Pan Cosmatos
Synopsis:
A successful lawman's plans to retire anonymously in Tombstone, Arizona, are disrupted by the kind of outlaws he was famous for eliminating.
Tombstone (R)
PLAYING MARCH 11 AT:
Show times are available on this date for theatres in bold type. Click theatre name for tickets.