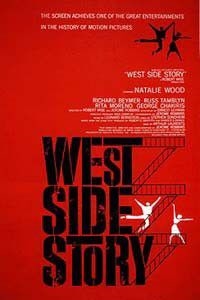 Release Date:
October 18, 1961
Cast:
Natalie Wood, Richard Beymer, Russ Tamblyn, Rita Moreno, George Chakiris
Director:
Jerome Robbins, Robert Wise
Genre:
Drama, Musical, Romance
Synopsis:
This romantic musical update of 'Romeo and Juliet' won ten Oscars. The tale of a turf war between rival teenage gangs in Manhattan's Hell's Kitchen and the two lovers who cross battle lines has captivated audiences for four decades. The Stephen Sondheim/Leonard Bernstein score is just one of the reasons.
West Side Story (NR)
PLAYING MARCH 10 AT:
Show times are available on this date for theatres in bold type. Click theatre name for tickets.