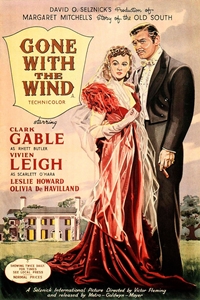 Opening Date:
January 17, 1940
Cast:
Clark Gable, Vivien Leigh, Leslie Howard, Olivia de Havilland
Genre:
Drama, Classic, Romance
Synopsis:
On the eve of the American Civil War, rich, beautiful and self-centered Scarlett O'Hara has everything she could want -- except Ashley Wilkes. But as the war devastates the South, Scarlett discovers the strength within herself to protect her family and rebuild her life. Through everything, she longs for Ashley, seemingly unaware that she is already married to the man she really loves -- and who truly loves her -- until she finally drives him away. Only then does Scarlett realize what she has lost ... and decide to win him back
Gone With the Wind (1939) (G)
Click bold theatre name for showtimes and tickets.
Showtimes available three days prior to opening.