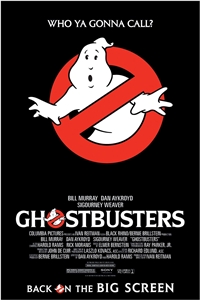 Opening Date:
June 1, 1984
Cast:
Bill Murray, Dan Aykroyd, Sigourney Weaver, Harold Ramis, Rick Moranis
Genre:
Comedy, SciFi/Fantasy
Synopsis:
A University parapsychologists Dr. Peter Venkman , Dr. Raymond Stanz, and Dr. Egon Spengler lose a research grant when their experiment methodology is proven to be bogus. The team decides to go into business for themselves and open 'Ghostbusters,' a ghost removal service. After struggling to get on their feet, they are summoned to investigate the strange happenings in Dana Barrett's Central Park West apartment. What they discover is that all Manhattan is being besieged by ghosts and other worldly demons through a portal in her building.
Ghostbusters (1984) (PG)
Click bold theatre name for showtimes and tickets.
Showtimes available three days prior to opening.