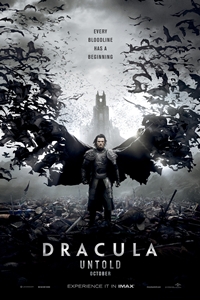 Opening Date:
October 10, 2014
Cast:
Luke Evans, Sarah Gadon, Diarmaid Murtagh, Dominic Cooper
Genre:
Action/Adventure, Drama, SciFi/Fantasy
MPAA Rating:
PG13 for intense sequences of warfare, vampire attacks, disturbing images, and some sensuality
Synopsis:
Explores the origin of Dracula, weaving vampire mythology with the true history of Prince Vlad the Impaler, depicting Dracula as a flawed hero in a tragic love story set in a dark age of magic and war.
Dracula Untold: The IMAX Experience (PG13)
Click bold theatre name for showtimes and tickets.
Showtimes available three days prior to opening.