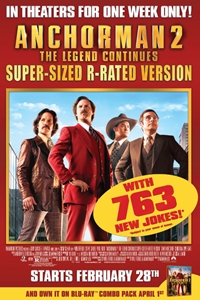 Opening Date:
February 28, 2014
Cast:
Will Ferrell, Steve Carell, Paul Rudd, David Koechner, Christina Applegate
MPAA Rating:
R for language, drug use, sexual material and references
Synopsis:
Give fans more of what they love! Anchorman 2: Super-Sized R rated version delivers a new movie with 763 new jokes.
Anchorman 2: Supersized (R)
Click bold theatre name for showtimes and tickets.
Showtimes available three days prior to opening.