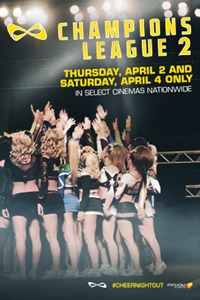 Opening Date:
April 2, 2015
Cast:
Director:
Synopsis:
Fathom Events and the Nfinity Champions League are thrilled to bring the ultimate cheerleading competition back to the big screen in select cinemas nationwide on Thursday, April 2 and Saturday, April 4. Building on its larger-than-life 2014 debut, the Nfinity Champions League makes its highly-anticipated cinematic return for its second annual #CheerNightOut. Captured in Los Angeles and broadcasted nationwide, this magnetic event showcases the athleticism, strength and showmanship of 30 of the country's most decorated cheerleading teams as they unite for a defining competition and fight to be named the Grand Champion.
Nfinity Champions League 2 (NR)
Click bold theatre name for showtimes and tickets.
Showtimes available three days prior to opening.