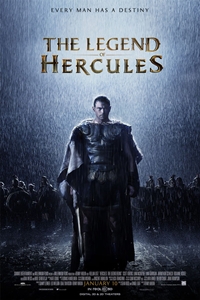 Opening Date:
January 10, 2014
Cast:
Kellan Lutz, Gaia Weiss, Liam McIntyre, Liam Garrigan, Johnathon Schaech, Roxanne McKee, Scott Adkins, Rade Serbedzija
Genre:
Action/Adventure, SciFi/Fantasy
MPAA Rating:
PG13 for sequences of intense combat action and violence, and for some sensuality
Synopsis:
In this epic origin story, the mythical Greek hero Hercules - the son of Zeus, a half-god, half-man is blessed with extraordinary strength. Betrayed by his stepfather, the King, and exiled and sold into slavery because of a forbidden love, Hercules must use his formidable powers to fight his way back to his rightful kingdom. Through harrowing battles and gladiator-arena death matches, Hercules embarks on a legendary odyssey to overthrow the King and restore peace to the land.
The Legend of Hercules 3D (PG13)
Click bold theatre name for showtimes and tickets.
Showtimes available three days prior to opening.