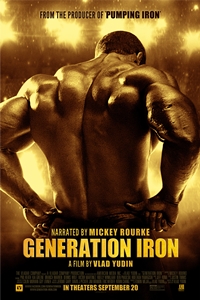 Opening Date:
September 20, 2013
Cast:
Mickey Rourke, Phil Heath, Kai Greene, Branch Warren, Dennis Wolf, Victor Martinez, Arnold Schwarzenegger, Lou Ferrigno, Jay Cutler
Genre:
Documentary, Drama
MPAA Rating:
PG13 for thematic material and brief strong language
Synopsis:
Generation Iron - examines the professional sport of bodybuilding today and gives the audience front row access to the lives of the top 7 bodybuilders in the sport as they train to compete in the world's most premiere bodybuilding stage - Mr. Olympia.

Each athlete, has a story to tell of their life, journey, aspiration and motivation. They have been through ups and downs, overcoming the toughest judges in the world as they've entered the stages around the world and flexed their muscles for eager fans. To their fans, they are more than superstars - they are Olympian Gods.
Generation Iron (PG13)
Click bold theatre name for showtimes and tickets.
Showtimes available three days prior to opening.