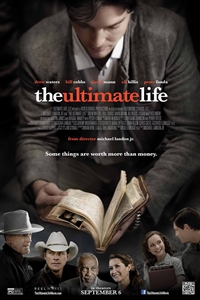 Opening Date:
September 6, 2013
Cast:
Bill Cobbs, Peter Fonda, Lee Meriwether, Ali Hillis, Logan Bartholomew, Abigail Mavity, David Mann, Drew Waters, Brett Rice
Director:
Michael Landon Jr.
MPAA Rating:
PG for a brief battle scene and mild thematic elements
Synopsis:
Between running his grandfather's foundation, being sued by his greedy extended family, and seeing his beloved Alexia leave on an extended mission trip to Haiti, Jason Stevens' world is unraveling. But then he discovers his late grandfather's journal and is transported back into Red Stevens' incredible rags-to-riches life. With everything he loves hanging in the balance, Jason hopes he can discover THE ULTIMATE LIFE. This film reminds us some things are worth more than money!
The Ultimate Life (PG)
Click bold theatre name for showtimes and tickets.
Showtimes available three days prior to opening.