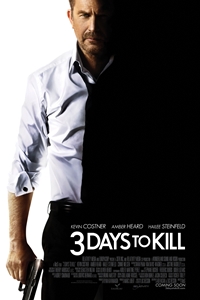 Release Date:
February 21, 2014
Cast:
Kevin Costner, Amber Heard, Hailee Steinfeld, Connie Nielsen, Eriq Ebounay
MPAA Rating:
PG13 for intense sequences of violence and action, some sensuality and language
Synopsis:
In this heart pounding action-thriller, Kevin Costner is a dangerous international spy, who is determined to give up his high stakes life to finally build a closer relationship with his estranged wife and daughter, whom he's previously kept at arm's length to keep out of danger. But first, he must complete one last mission- even if it means juggling the two toughest assignments yet: hunting down the world's most ruthless terrorist and looking after his teenage daughter for the first time in ten years, while his wife is out of town.
3 Days to Kill (PG13)
PLAYING MARCH 11 AT:
Show times are available on this date for theatres in bold type. Click theatre name for tickets.