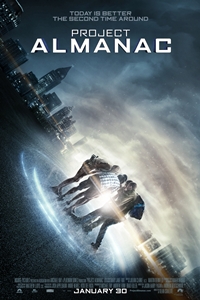 Opening Date:
January 30, 2015
Cast:
Jonny Weston, Sofia Black D'Elia, Michelle DeFraites, Patrick Johnson, Allen Evangelista, Sam Lerner, Michelle DeFraites, Wadette Bradford, Allen Evangelista
Genre:
SciFi/Fantasy, Suspense/Thriller
MPAA Rating:
PG13 for some language and sexual content
Synopsis:
A brilliant high school student and his friends uncover blueprints for a mysterious device with limitless potential, inadvertently putting lives in danger.
Project Almanac (PG13)
Click bold theatre name for showtimes and tickets.
Showtimes available three days prior to opening.