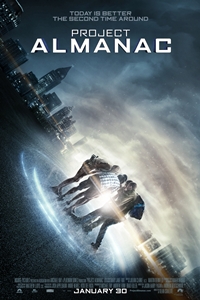 Opening Date:
January 30, 2015
Cast:
Jonny Weston, Sofia Black D'Elia, Michelle DeFraites, Patrick Johnson, Allen Evangelista, Sam Lerner, Michelle DeFraites, Wadette Bradford, Allen Evangelista
Genre:
SciFi/Fantasy, Suspense/Thriller
MPAA Rating:
PG13 for some language and sexual content
Synopsis:
A group of teens discover secret plans of a time machine, and construct one. However, things start to get out of control.
Project Almanac (PG13)
Click bold theatre name for showtimes and tickets.
Showtimes available three days prior to opening.